Pastor Kris & Paula Nyman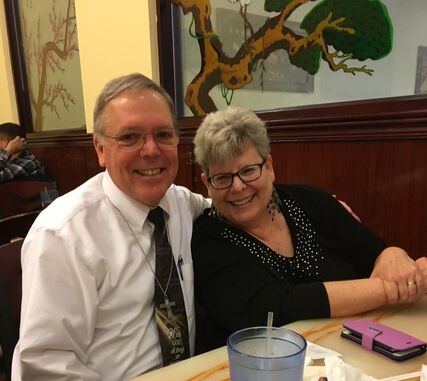 I grew up in Denver, Colorado. My paternal grandparents emigrated from Sweden in the early 1920s. So, I grew up with a strong heritage of Swedish traditions, language and relatives. I actually have more relatives in Sweden than in the U.S. because both my father's parents came from large families and both were the only ones among all their siblings to leave Sweden. I have two older brothers and one younger brother.
I grew up in a Lutheran church in Denver where they still had services and Bible studies in Swedish. Later we moved to a church nearer our home in the suburb of Englewood. I was confirmed at that congregation, Grace Lutheran Church of the American Lutheran Church (ALC).
I came to experience living faith in Jesus while working at a coal mine in Wyoming when I was 18. Later, when I returned to my home congregation, my pastor discipled me to the assurance of Salvation by faith in Jesus! I am forever grateful for that gift, and desire to see many others come to saving faith in Jesus.
I attended college at Metropolitan State in Denver, graduating with a degree in Meteorology. I intended to use that knowledge for flying and not as work as a full-time meteorologist. It became apparent that God wanted me in the ministry and not flying airplanes.
I attended Wartburg Seminary in Dubuque, Iowa. There I had the opportunity to study abroad for one year in Oslo, Norway. I worked for the summer in my relative's factory in Sweden, and then spent the school year in Oslo. Spoken Swedish and spoken Norwegian are very close. At the seminary in Oslo, all my classes were taught in Norwegian.
After returning to the U.S., I was starting my internship at a three point parish in Baudette, Minnesota, on the Canadian border. It was during this year when the love of my life, Paula said "yes" when I asked her to marry me. We were married in 1982. We went back to Wartburg Seminary for my senior year. I graduated, and then was ordained in June of 1983 in my home congregation, Grace Lutheran Church, (ALC) Englewood, Colorado.
My first parish was a three point parish in Northeastern Montana. I served the congregations of Medicine Lake Lutheran, Reserve Lutheran and First Lutheran. In 1987 I was called to serve Trinity Lutheran Church, an ALC church which merged into the Evangelical Lutheran Church in America (ELCA) in 1988. Trinity is located in Choteau, Montana, near the foothills of the Rocky Mountains.
It was in Choteau that Paula and I were blessed with our only child, a beautiful girl named Annika. She now lives in Minneapolis, Minnesota and works as a Birth Doula--labor coach, and helps single women as well as couples develop and follow their birth plans. When the time comes for a precious baby to enter this world, she is there helping, encouraging, supporting and ministering to these people. Annika is married to Dr. Tyler Koep, who does research in DNA. Together they are raising two boys, Lewis and James.
My wife, Paula, graduated with a degree in Elementary/Special Education. She taught third grade in the public school in Medicine Lake, Montana for the first three years we lived there. She loves to do creative things. She has been a quilter, a weaver, a scrapbooker—both traditionally as well as digitally. She has taken a series of online classes on photography as well as designing web sites. She loves to help people learn to study the Bible inductively and dig into God's Word for themselves.
In 1992, I was called to serve Calvary Lutheran Church (ELCA) in Perham, MN in the lake country of that state. In 1995, I was called to serve Zion Lutheran Church (ELCA) in Beulah, North Dakota as the associate pastor. In 1998 I moved to the senior pastor position of that same church.
In 2003, because of the liberal leanings of the ELCA, I preached about the importance of holding to God's Word from Genesis through Revelation. This eventually led to us voting to leave the ELCA. The congregation came close to reaching the 2/3 majority, but not close enough. A large group ended up leaving and joining an Association of Free Lutheran Congregation's church, Prince of Peace Lutheran, AFLC in Beulah, ND. That group called me to serve as its pastor, where I remained until I moved here to Hagerstown, MD in November of 2014.
Salvation by faith in Jesus is the greatest gift any man, woman or child can receive in their entire lives. I live to see people come to Jesus, grow in faith to serve, and tell others the good news of how Jesus has set them free from various bondages of sin, and prepared a place for them in eternity.
We can only live the Christian life by being born again through repentance and daily asking for the Holy Spirit to empower us to live the way He wants us to live.
Deacons
Ernie Giancola - President
Jeff Kelley - Vice-President
Craig Wasilius - Treasurer
Jim Edgel
Andy Koontz
Elders
​Pastor Mark Benz
Jody Koontz
Josh Wilson - Secretary
Audit Committee
Mark Angle
Jayne Angle
Lisa Koontz
Alan Strasburg
Julie Barr-Strasburg
Debbie Wasilius
Christian Education Committee (Growth Groups)
Community Engagement (Outreach) Committee
Linda Koontz
Debbie Wasilius
Election Committee
Rachael Rohrer
Debbie Wasilius
Finance & Stewardship Committee
Craig Wasilius
Julie & Alan Strasburg
Property & Grounds Committee
Worship Committee
Youth Committee
Come join us at Christ Community Church on your personal journey of faith with Jesus!